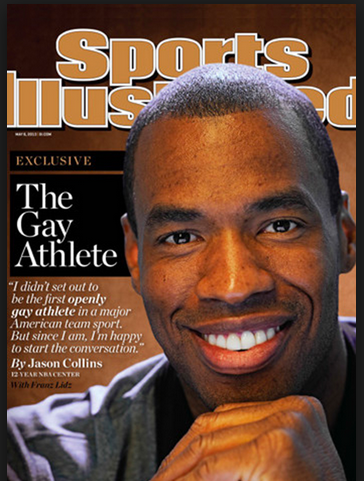 Professional basketball player, Jason Collins, announced this week that he is gay. The media covered the story because Collins is the first American male athlete to come out while he is still playing.
The media interviewed Collins, a Stanford University graduate, and his former fiancé, also a Stanford grad. Both gave thoughtful intelligent answers.
Collins didn't come out because some scandal was about to break. Instead he came out because he felt it was the right thing to do.
For a day the media speculated on Collins' marketability and whether or not he'll be able to cash in as the first gay male athlete.
And then you know what happened?  The media went on to other stories. Jason Collins wasn't a scandal. The media didn't hang him out to dry. They didn't obsess over him for 24-hours.
We've come a long way as a country when Jason Collins is a one day story and his announcement doesn't become a weeklong feeding frenzy.
Bravo to you Jason.  I know you're a free agent after this year's playoffs are over. Let's hope that a team picks you up next so that we can continue to see you play.
More importantly, I hope more gay athletes follow your example.